Page 2 of 13
Automotive Technology - Hands-on experience helps students learn skills that are fundamental to the automotive technology field. Practical work exposes students to the challenges presented by routine maintenance, diagnosis of problems and procedures for repair of today's automobiles and light trucks.
The Automotive Technology program is a technical program of study that concentrates on a wide range of competencies necessary for the automotive field. Students learn basics such as shop safety, use of tools and equipment, routine repair and vehicle maintenance. Instruction progresses to include the systems of current model automobiles and light trucks, vehicle systems diagnostics, technical reading skills, use of print and online manuals and technical research. Instructors work with students to increase their range of knowledge and skill through demonstrations, simulations and live work. The training facility is up-to-date and offers students a simulated work environment.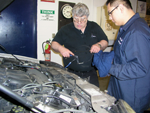 Instructors follow a National Institute for Automotive Service Excellence curriculum. The school tracks stu dent development through a series of competencies and projects that support the ASE course of study. The Automotive Technology program prepares students for work in the automotive field, for postsecondary education and/or for Automotive Service Excellence (ASE) examinations. ASE certification is a recognized professional standard in the automotive service industry and students are encouraged to pursue this recognition.