Page 12 of 13
Animal Care - Students work with live animals and learn grooming, veterinary assistance and animal care in the campus small animal care facility.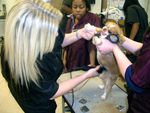 Students in the Animal Care program learn grooming for all popular breeds of dogs and cats, general health concerns associated with dogs and cats, kennel sanitizing and disinfecting procedures and the safe handling of animals and equipment. The classroom is set-up as a small animal care facility and run as a small business specializing in animal grooming. Accordingly, students also learn office reception procedures, handling of appointments and the maintenance of a computer client database.
Upon successful completion of the program, graduates receive a performance record of skills which summarizes what they have learned. A 1,000 Hours Certificate is also awarded to students who achieve this training hour's milestone. The school arranges work experience and transition programs for students in association with local veterinary hospitals, grooming shops, boarding facilities and large pet retail stores. This aspect of the program helps students secure work upon graduation.