Page 3 of 13
Automotive Collision Repair - Students develop expertise in the skills and techniques required for the auto body repair field. Hands-on projects include work on both automobiles and light trucks.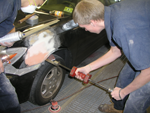 The Automotive Collision Repair program follows a curriculum recommended by the National Institute for Automotive Service Excellence (ASE). The school tracks student development through a series of competencies and projects that supports the ASE course of study in automotive collision repair. Students prepare to take the ASE examinations which lead to ASE certification. ASE certification is a recognized professional standard in the automotive service industry today and students are encouraged to pursue this recognition.
Study in this program includes both theory and hands-on work. Students become experienced in working with auto body fillers, rust proofing materials and primers. Through live work, students learn to remove and replace glass and trim and to spot paint or refinish repaired areas of vehicles. Students learn how to maintain acceptable working conditions, interpret work orders, use hand and power tools, use welding equipment, straighten damaged areas of vehicles and remove and replace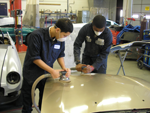 vehicle parts. By the end of the program, students become adept in meeting the demands of today's sophisticated collision repair industry. Program completers take ASE examinations, find field employment or continue their education in a postsecondary school or college.