Page 4 of 13
Cosmetology - This program involves studies of the hair, scalp, skin and nails. Students work to become well prepared to meet the examination requirements of the New Jersey State Board of Cosmetology.
The curriculum followed in the Cosmetology program prepares students to meet the examination and licensing requirements of the New Jersey State Board of Cosmetology. In addition to theory and classroom work, specialized training is provided through the use of mannequins, demonstrations and live models.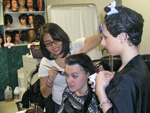 Cosmetology is all about style, health, visual effect and what it takes to achieve that perfect look. Students learn how to select hairstyles that suit the physical features of the patron and how to adapt current styling trends for the individual. Training concentrates on properties of hair and the physical and chemical effects of various products, such as shampoos, rinses, toning and lightening agents, curling and straightening agents and heat-activated agents such as permanents. Students learn how to work with a variety of products in the classroom cosmetology studio. Time and attention are also given to areas such as skin care, make-up, nail care, hand and arm massage, product selection and product application techniques for manicures, make-up and general skin care. Classroom theory includes the chemistry, anatomy and physiology related to the field of cosmetology, ethics of cosmetology, sanitation and sterilization and small business management.