Page 6 of 13
Green Building Trades- This technical area prepares students with the background knowledge and skill sets recognized by professionals in the electrical field. Hands-on projects reinforce classroom knowledge and help students build the skill precision required for work in this technical field.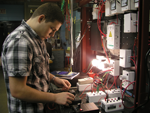 The Green Building Trades incorporates the latest sustainability practices in construction, electrical design, plumping, masonry and HVAC. Students learning in the green building trades have an opportunity to work with the latest technology such as Vertical Lift Modules (VLM) and take residential construction courses sponsored by the Home Builders Institute (HBI) and National Association of Home Builders (NAHB). The program allows for multiple industry standard certifications in carpentry, plumping, and electrical, as well as certificates through the Occupational Safety and Health Administration (OSHA).
Study in this technical area prepares the student to enter the electrical profession or to pursue a post-secondary education. Students who elect this program must follow a college prep academic program.