Page 7 of 13

General Contracting - Students acquire basic skills in the construction trades. In addition to trade skills, students study building codes and the environmental impact of various building materials and methods.
Students who select the General Contracting program work to develop basic skills commonly used in the construction trades. The curriculum begins with a focus on general safety, electrical safety and the proper use of hand and power tools. Students learn to interpret drawings, calculate materials and understand the various material and fastener options. Study also includes building codes, applicable laws, and issues related to the environmental impact of various building materials and procedures. Students gain skill in rough and finish carpentry and basic plumbing, as well as the wiring of electrical circuits according to code and schematics. The program also explores finishing procedures, surface preparation, and material selection. Various hand-on projects build skill and confidence in the use and application of various procedures, materials and technologies.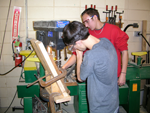 Since preparation for employment is more than skill development, the topic of employability is threaded throughout the program. Students learn how to obtain and maintain a job, practice proper job site clean up and build a working knowledge of professional ethics as related to the field of general contracting.