Page 8 of 13
Information Technology - This program provides students with the skills and knowledge they need to sit for the the industry-recognized CompTIA A+ Certification Examination.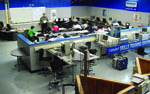 The field of Information Technology--often referred to as IT--is rapidly growing, rapidly changing and continues to offer many opportunities for high paid jobs. The ideal candidate for this program is someone who is a problem solver and who has demonstrated a clear aptitute for academics. This program requires technical reading.
The program introduces students to the various aspects of the broad field of information and telecommunications technology. The program concentrates on the development of the skills and knowledge required for the CompTIA A+ Certification Examination. The CompTIA A+ Certification is a vendor-neutral international industry credential that validates the knowledge of computer service technicians. Earning the CompTIA A+ Certification proves that the individual has a broad base of knowledge and competency in core hardware and operating systems, including installation, configuration, diagnostics, preventive maintenance and basic networking. CompTIA is the common acronym used for the Computing Technology Industry Association.