Page 9 of 13
Environmental Design -Students in the Environmental Design program gain experience and knowledge in plant materials, deciduous plants, trees, ornamentals, shrubs, evergreen plants, and ground coverings.
Moving from classroom instruction to practical applications, students learn how to place, plant, and maintain turfs, shrubs, and plantings for beautification of homes, businesses, and community areas. BCTHS/Paramus is proud to partner with Bergen Community College to offer our students the ability to gain six credits at no cost prior to graduation. This partnership exists due to the fact that our program goes far beyond simply the basic mechanics of landscaping.
The most important part of the Environmental Design program is that our students learn the fundamentals of aesthetics and are able to apply them to real world applications. Students become proficient with the essential tools for design (i.e., t-square, French curve, protractor, scale ruler as well as the state of the art Dynascape Computerized Landscape Design program), and conduct work site analysis for design.
ARTICULATED COURSES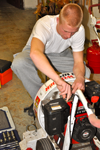 Principles of Landscaping (Bergen Community College- Principles of Landscaping; HRT 113)
Plants and Materials ( Bergen Community College- Landscape plants and materials; HRT 104)