Page 7 of 10
Digital and Media Arts
Specializing in Multimedia,
New Media, and Broadcast Technologies
The Digital Media Arts Program responds to a natural evolution of the modern era. Designed to prepare students for careers as multi-media producers as well as for emerging careers in new media production, state-of-the-art technological tools are built into all courses. The curriculum provides a profession oriented, academically sound education in the art, management, and science of communication through digital multi-media and new media production. At the heart of the process are several campus-based web entities that provide dynamic backdrops for the application of the proficiencies honed through virtually all of the Digital Media courses. Students in the Digital Media Option conceptualize, plan, develop, and create digital content that supports student-managed websites, including an emerging electronic journalism web publication along with additional methods of media distribution that include in-house video programming and broadcast. Designed to prepare students for professional production work, this program introduces those skills required for careers as producers, directors, art directors, production assistants, and writers, as well as emerging careers in new media and immersive technologies for the web.
Digital Media Program Highlights: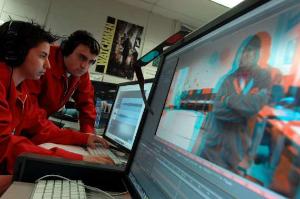 • Introduction to Digital Media
• Web Development & Design Series
• 2D Graphics
• Advanced Digital Media
• Audio Production
• Animation
• Digital Video Production
• Digital Audio Production Series
• Multi-Media Studio Series
• Senior Internship
• New Advances in Digital Media