Page 9 of 10
Law and Justice
The Law & Justice program provides students with an in-depth
background in the foundation of laws, law practice, criminology, forensic science, and technical methods used today by various agencies to protect the public. Studies in the foundation of laws from common law to constitutional law, the American system of justice, court structures, the art of debate, and individual rights provided by
the Constitution will be analyzed as the basis for understanding the balance between law, justice, and public safety systems. Academic courses will integrate technical writing methods to develop reports, legal briefs, summaries, and arguments utilized to present scientific evidence, legal defenses, and position documents. The program will also offer courses in the history of various public safety agencies and the mathematical principles needed to solve the mechanics of an event. Through emerging partnerships with local, state, and county agencies, members of the Bar and the judicial system, and various specialists employed in judicial and public safety professions, students will be exposed to a variety of immersive experiences in the theoretical, practical, and technical arts and sciences associated with law, criminal justice, and public safety. A student graduating from this program will be able to continue his education at either a two- or four-year college, university, technical school, or law enforcement academy, as well as be employed in support occupations within the judicial and public safety professions.
Law & Justice Program Highlights: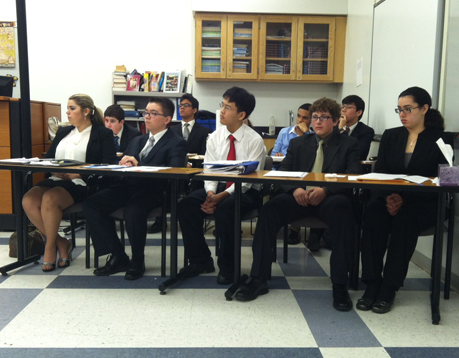 • Introduction to Law and the Justice System
• Police Studies & Corrections
• Juvenile Justice
• Family Law
• Forensic Science
• Consumer Law
• Senior Seminar
• AP US Government
• Criminology
• Computer Technology
• Police Studies & Corrections
• Constitutional Law – Case Studies
• Torts
• Senior Internship
• Sociology (elective College Level with Syracuse University)